Join us Saturday for this PMM Fundraiser!
Silver Winter: 25 Year Anniversary Retracing of Our First Month Long Snowshoe Trip in the Maine Woods
Illustrated Talk by Garrett Conover
This beautifully illustrated talk is the story of two month-long trips using human powered traditional travel. Over twenty-five years ago Garrett and Alexandra spent their honeymoon snowshoeing in Maine's north woods, from Greenville to Allagash. They retraced their steps in 2005, providing a fresh look at the Maine woods surrounding Moosehead Lake, the West and North Branches of the Penobscot, and the St. John River. This talk celebrates several conservation success stories, human powered traditional travel, and the beauty of the wilds in winter.
Garrett & Alexandra Conover radiate an inspirational connectedness to the landscapes and northern people whose skills they have been studying and practicing for more than thirty years.
Yankee Magazine listed them amongst "Sixty People Who Make New England New England" and in 1999 Outside Magazine profiled them (with five others) as "20th Century Heroes for a New Millennium".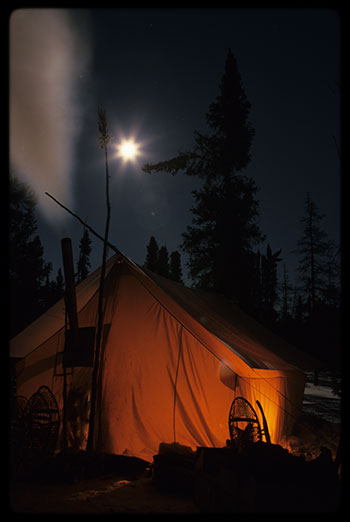 Garrett and Alexandra Conover are "masters of traditional north woods canoeing and camp craft…superb artisans who build their own wood-and-canvas canoes and make their own paddles and ash pack baskets."
Saturday, March 2, 2:00 pm
At Penobscot Marine Museum's Stephen Phillips Memorial Library, 11 Church Street, Searsport. Tickets in advance $10 non-members, $8 members, or at the door $15 non-members, $12 members. Buy tickets online at http://silverwinter.eventbrite.com or call PMM at 207-548-2529.