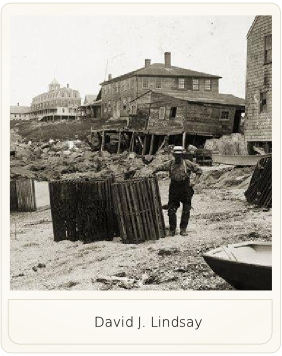 David J. Lindsay
The collection includes 235 glass plate and film negatives and a few prints taken during the first half of the 20th century, primarily of Lincoln County, Maine, but also including buildings and street views of Boston, Massachusetts, and Burlington, Vermont.
David Lindsay was a photographer whose focus was primarily Lincoln County, Maine, from the 1920s through the 1940s. In 1926 he opened a photography shop in Damariscotta, Maine, on the second floor of the Masonic Block on Main Street. He operated this business until 1944, when he sold it.
He was a prolific photographer whose work covered a wide range of subjects. He took student and sports photos for schools in Lincoln County, photographed church and grange groups, took pictures at weddings and parties, and extensively documented the Damariscotta business district. From 1926 to 1939 he took many photos of boats under construction and launched at the Morse shipyard in Thomaston, Maine. He continued to photograph the fishing boats built at the shipyard after Harry Marr took over its operation. Marr built ships for the U.S. Navy in World War II, and Lindsay documented the launchings.
Lindsay took many photos of other places in Lincoln County, using some to print postcards for local shops, hotels, and inns, which often used them to advertise their businesses.
The collection of Lindsay photographs at Penobscot Marine Museum is but a small portion of Mr. Lindsay's total body of work. In addition to Damariscotta, it includes views of houses and streets in Wiscasset, Maine, and scenes on Monhegan Island.