News at the Museum
To receive press releases or for more information, contact Sabrina Kettell, skettell@pmm-maine.org or 207-548-2529 ext. 216.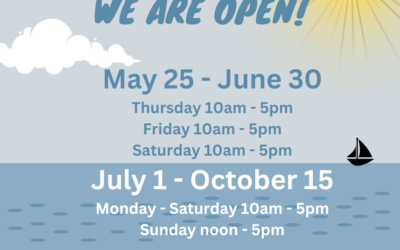 Programs for the 2023 season include: The Your Local Library + Museum series designed to showcase some of the exciting things you can see or do at the museum, and a Member Monday featuring Wabanaki items from our collection.
Sign up for our Newsletter!
We'll email you monthly updates about what's happening at Penobscot Marine Museum, including special events, new exhibits, and additions to our collections.
Your privacy is important to us, so we'll never sell or distribute your contact information.
Penobscot Marine Museum
40 E Main Street | P.O. Box 498 Searsport, ME 04974
Phone: 207-548-2529
Hours: July 1 - October 15
Monday, 10am-5pm
Tuesday, 10am-5pm
Wednesday, 10am-5pm
Thursday, 10am-5pm
Friday, 10am-5pm
Saturday, 10am-5pm
Sunday, Noon-5pm