Permanent Exhibits
Always on display at Penobscot Marine Museum
Regional Watercraft
One of New England's largest displays of classic small craft, with more than 50 boats on view in several buildings. The collection contains craft of every description, including lobster boats, peapods, dories, cedar/canvas and birchbark canoes, Whitehalls, racing sloops and more, all with a Maine pedigree. There's also a small but choice collection of antique engines on display.
Gone Fishing
From lobsters to sardines, Maine's fisheries define and influence the state's history, economy, and culture. Learn about the early days of hand-lining, how to catch a lobster, how to dress for sea, and different kinds of boats and gear. Watch videos and examine historic photographs from the Atlantic Fisherman. Kids will enjoy going aboard a real dory and replicas of a lobster boat and the sardine carrier Jacob Pike.
This exhibit is funded by:
The Maine Humanities Council
The Gardner Charitable Trust
The Morton-Kelly Charitable Trust
The Davis Family Foundation
Linda L. Bean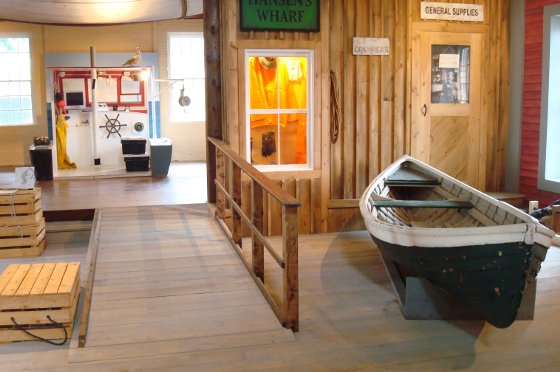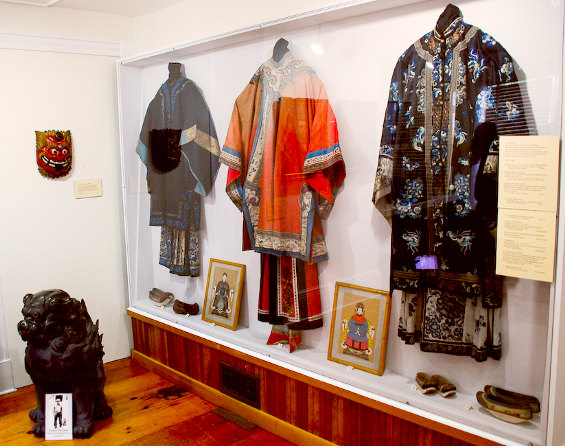 Souvenirs from the Orient
The sea captains of 19th century Searsport were like other travelers, in that they collected souvenirs. Come see what local ships' masters brought back from the Orient as gifts to family and friends or as reminders of their voyages. Items you'll see in the Jeremiah Merithew House include:
a pair of bronze "Fu" dogs that likely guarded the doors of a Chinese temple or palace
elaborately embroidered Chinese costumes, and painful shoes for women's bound feet
children's toys and games, including dolls and ivory jackstraws (think pick-up-sticks)
whimsical wood miniatures of Chinese life
Japanese and Chinese paintings of people and ships
Rowboats for Rusticators
In the late 19th and early 20th centuries, "rusticators" were visitors to Maine who sought to enjoy a rustic vacation as a change from their refined, everyday, often urban lives. Any hunting or fishing trip or family vacation on a lake or river was sure to involve rowing, and possibly hunting or fishing, in small wooden boats like those shown here: an Adirondack Guide Boat, a Whitehall, and a simple skiff. Other boats on display include a recreational peapod and an Old Town sponson canoe set up for rowing, along with a selection of choice historic photos depicting small-craft pleasure boating in Maine.
Working the Bay
History, Economy, and Recreation of the Penobscot Region
The Penobscot watershed did much to define the culture of Maine and beyond. Tall pines from its forests became masts for English warships. Later, its forest resources became everything from clothespins to schooners, while stone from its quarries helped built New York and Washington, DC. Explore the history of the Penobscot Region from several perspectives, including:
Prehistory: the original Wabanaki residents
Naval history: the disastrous Penobscot Campaign (America's greatest naval defeat prior to Pearl Harbor)
Economic history: timber, stone, shipbuilding, ice, and fishing
Recreation: the region's birth as a vacation destination
Hall of Ship Models
A fine display including builders' half-hull models, fully-rigged models accurate right down to the number of treenails fastening the planks to the frames (14,000 in one case!), and treasures like these:
a bone "prisoner's model" of a full-rigged warship
the ship B. Aymer, commanded by Capt. Joshua Slocum
a set of modern whaling ships: a "killer" and a factory ship a tug with a functioning miniature steam engine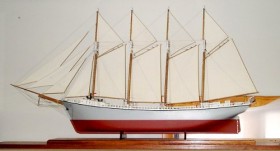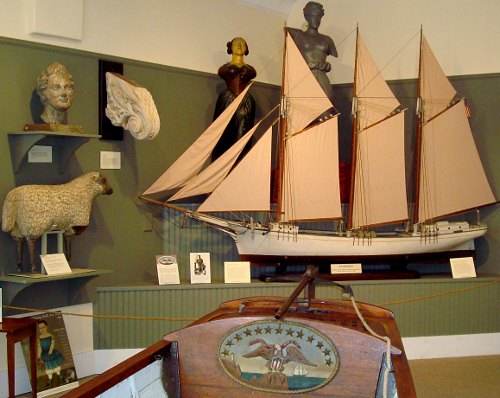 Folk Art of the Penobscot
For most Maine residents of the 19th century, folk art was art. The aesthetic sensibilities and artistic skills of common people showed up in workaday items like signs, boat decorations, furniture, scrimshaw — even gravestones, all shown in the Admissions area on Main Street.
Sea Captains of Searsport
In the 19th century, no town in the United States boasted more captains than Searsport, Maine. Many captains brought their wives and children along on voyages, and an interactive video kiosk tells their tales, while photographs show us what these mariners from another age looked like – some grim, some pleasant, and some downright scary. Famous seafaring names abound, including Pendleton, Merithew, Nichols and Colcord.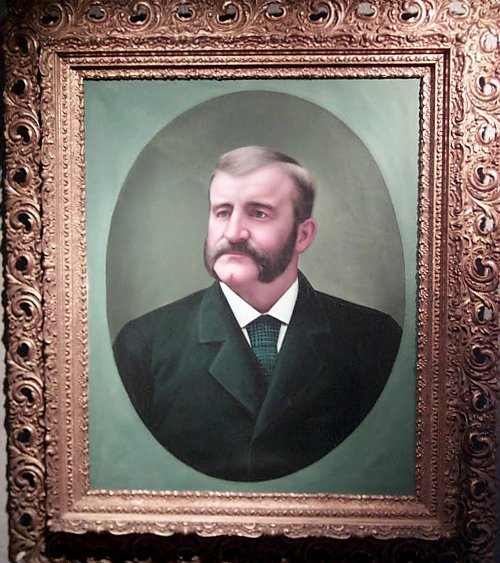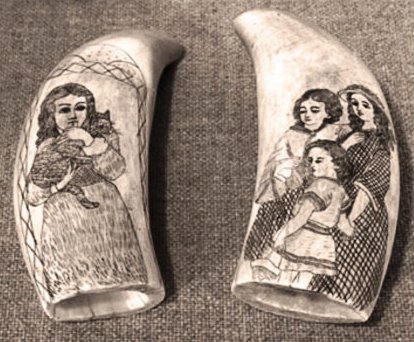 Scrimshaw
In their free time, many 19th century sailors produced handcrafts such as scrimshaw (scribing pictures on whales' teeth) or carved curious or practical items like yarn winders and snuff boxes from bone or baleen. The results, on display in Merithew House, range from eccentric folk-art pieces to fine art.