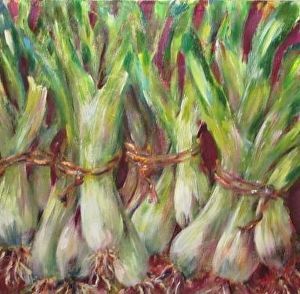 Patchwork of Color, a one-day acrylic painting workshop with artist Susan Tobey White at Penobscot Marine Museum will be held on Friday, August 15 from 10:00 am to 1:00 pm.  Beginning painters as well as those with experience will enjoy this class using the Gee's Bend Quilts as inspiration to create colorful acrylic paintings.  For a list of materials, please call Susan White at 207-338-8990 or email stwhite@gwi.net.  The workshop fee is $75 which includes museum admission.   To register for Patchwork of Color please call Penobscot Marine Museum at 207-548-2529 or 548-0334.
Susan Tobey White teaches painting workshops and owns High Street Studio & Gallery in Belfast, Maine.  She designed the 2004 and 2007 North Atlantic Blues Festival Poster and the 2008-2012 Maine Celtic Festival Poster, and recently earned the title of Golden Artist Educator by being one of 18  artist/workshop instructors chosen to participate in an intensive week long workshop learning about the acrylic products created by Golden Artist Colors, a leading manufacturer of acrylic paints.  Her work is in private collections throughout the United States, in Canada, Europe and Australia.
"Do It Your Way": Gee's Bend Quilts & Quilters in Maine isat Penobscot Marine Museum from Saturday, August 2nd through September 7th, 2014.  This is the first time that Gee's Bend quilts, which achieved fame in a series of national exhibits beginning in 1998, have been north of Boston.  The exhibit is sponsored by Fiber College of Maine and the Emily and William Muir Community Fund of the Maine Community Foundation.