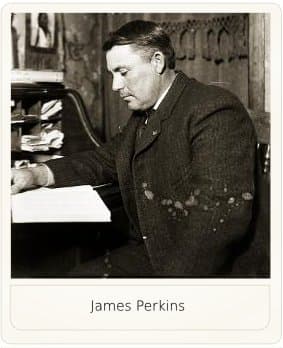 The collection includes 530 4×5, 5×7, and 6½x8½ glass plate negatives as well as a few other glass and film negatives taken by James Perkins, a steamboat captain on the Kennebec River from the 1880s through the 1930s.
Captain Perkins was born 1867 and grew up in Popham Village, on the shore of Atkins Bay at the mouth of the Kennebec. His view of the world was shaped by the river and its bustling maritime activity. Steamboats that serviced coastal and island communities, Boston-bound vessels carrying passengers and freight, work boats and pleasure craft made the Kennebec a busy thoroughfare. Perkins was hired at age 15 as first mate on the steam tug Adelia and in 1889, at age 22, became the youngest captain on the Kennebec when he took the helm of the Percy V. He navigated the river for more than three decades as captain of a succession of steamboats: Damarin, El Dorado, Island Belle, Winter Harbor, Islesford, and Sabino.
His position in the pilot house afforded him fine views of the shoreline, coves, islands, and lighthouses, the towns and summer communities, a lifesaving station, and the boatyards, wharves, and landings along the wide river. He observed vessels and the people who piloted and travelled on them. He watched the growth of Bath Iron Works, which began building steel vessels in the 1890s.
While working as a steamboat captain, Perkins took up photography, finding his subjects in daily life on the Kennebec. He began with a 4×5 view camera and later used 5×7 and 6.5x 8 view cameras, producing glass plate negatives.
Perkins was also an accomplished portrait photographer who enjoyed photographing his subjects in outdoor settings as well as in their homes. His images of picnics, beach outings, family sails, and children at play provide a window on the pleasures of life along the river. He photographed family members and Popham Beach neighbors in their parlors and at community events. Perkins' photographs communicate a lively sense of time and place.
Perkins died in 1935, and his widow Sibyl packed away her husband's negatives and put them in her attic. In the 1940s she showed some of the glass plates to her niece Jane Stevens, who quickly realized that it was important that her uncle's images be preserved. Her aunt gave her the negatives, and Jane developed the skills to competently print the photos herself. She then undertook the research to identify them. In 1974 she published many of her uncle's images in the book One Man's World: Popham Beach, Maine. She died in 2008, and her heirs donated the collection Penobscot Marine Museum.