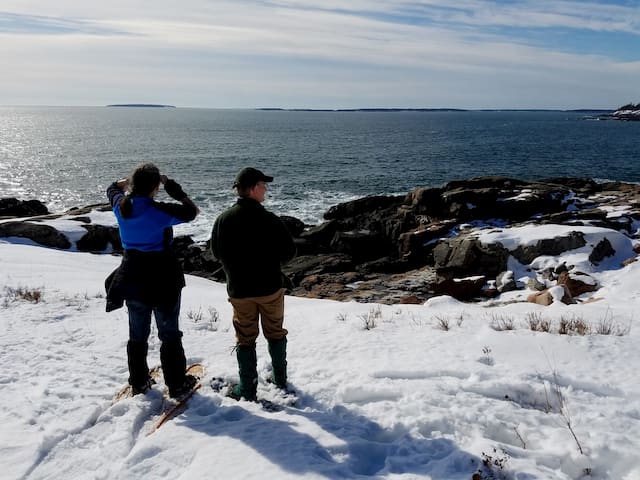 Sunday, March 8th, 12:30pm-3:30pm
$8/person, $5/PMM member or Searsport/Stockton Springs Resident
$20/family, FREE for children 7 and under!
Enjoy drop-in crafts, hourly guided tours of exhibits, and special program! 
In case of inclement weather, these programs will be canceled if the Searsport First Congregational Church cancels worship service. PMM will also post cancelations on our Facebook page at Facebook.com/penobscot
Not just a duck – put a name to those birds you see in Penobscot Bay. Find out more about loons with the Loon Kit from Maine Department of Inland Fisheries and Wildlife and put together bird crafts. Friends of Sears Island (FOSI) board member Rob Burke will present a program about mallards, eiders, buffleheads, loons, cormorants, and more water birds that are observed locally around Sears Island. A retired science teacher and birder, Rob will share information on the birds' habitat and food and also provide tips and tricks for identifying the many different species. He will finish his talk with an overview of FOSI's activities. 
Friends of Sears Island is committed to the dual purposes of protecting the natural & cultural resources of Sears Island and maintaining public accessibility for recreation and education.